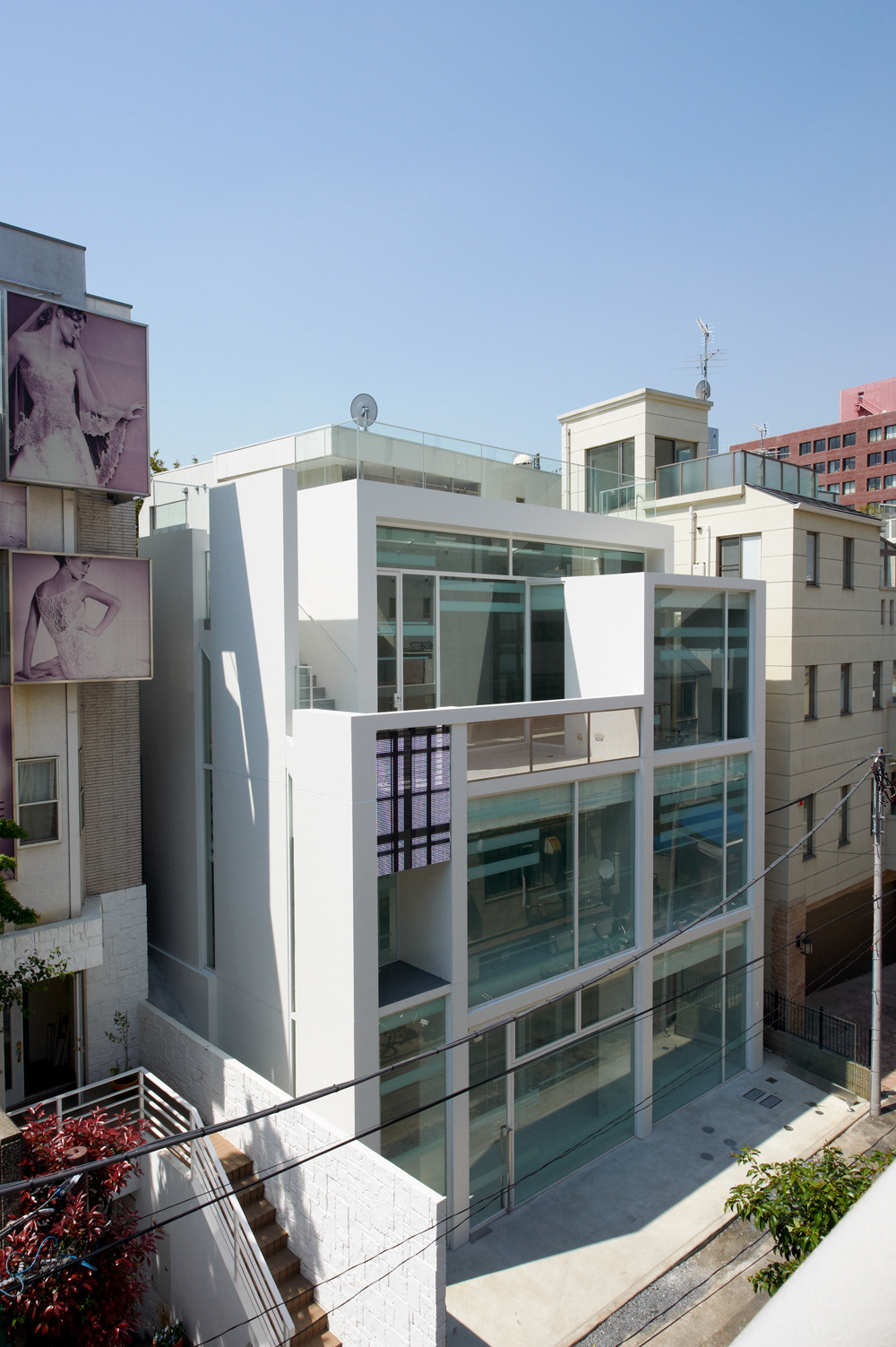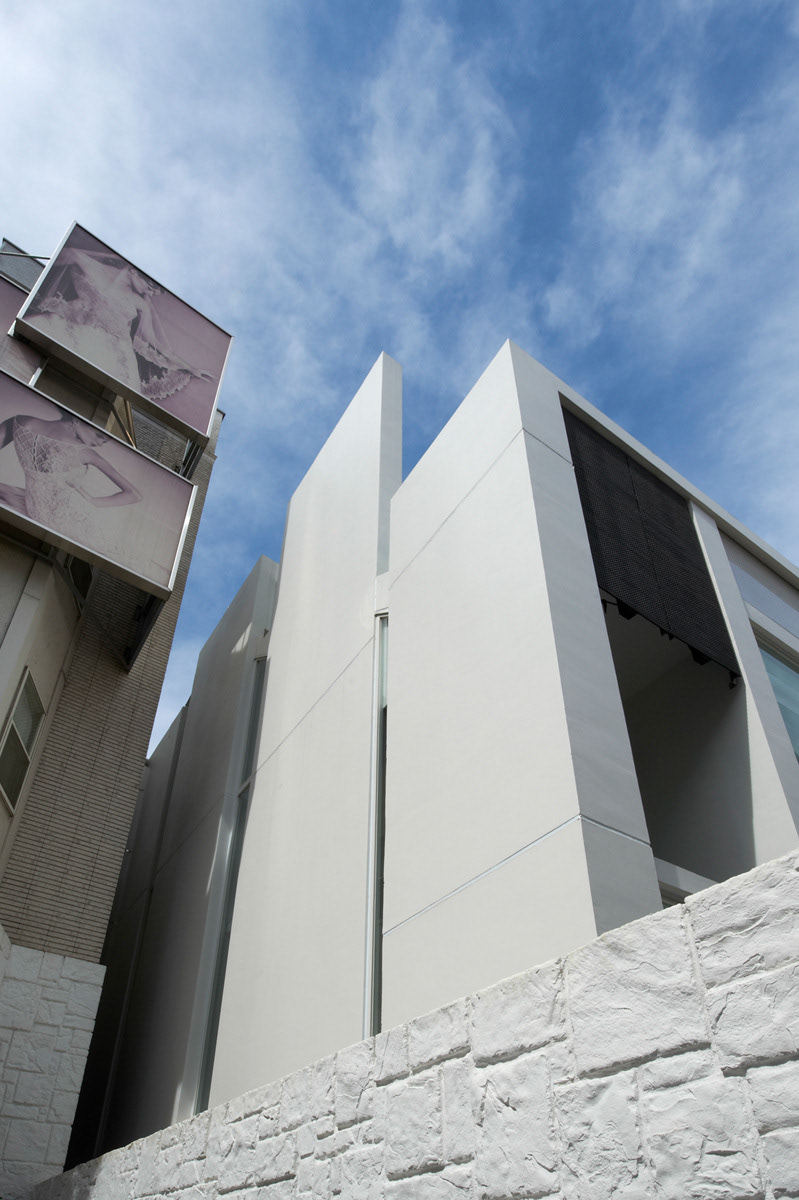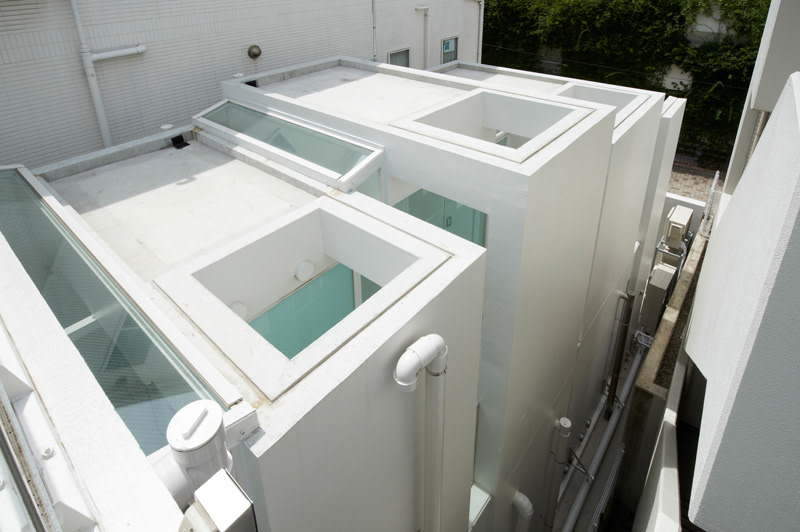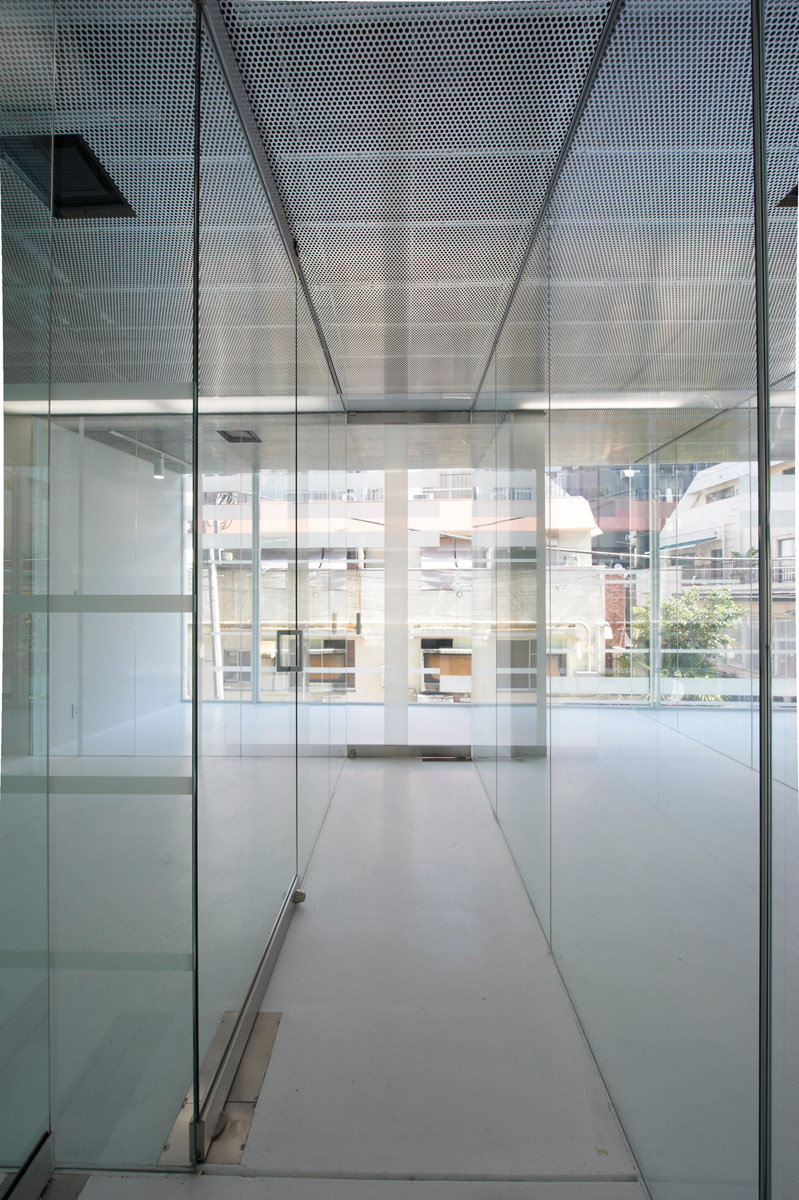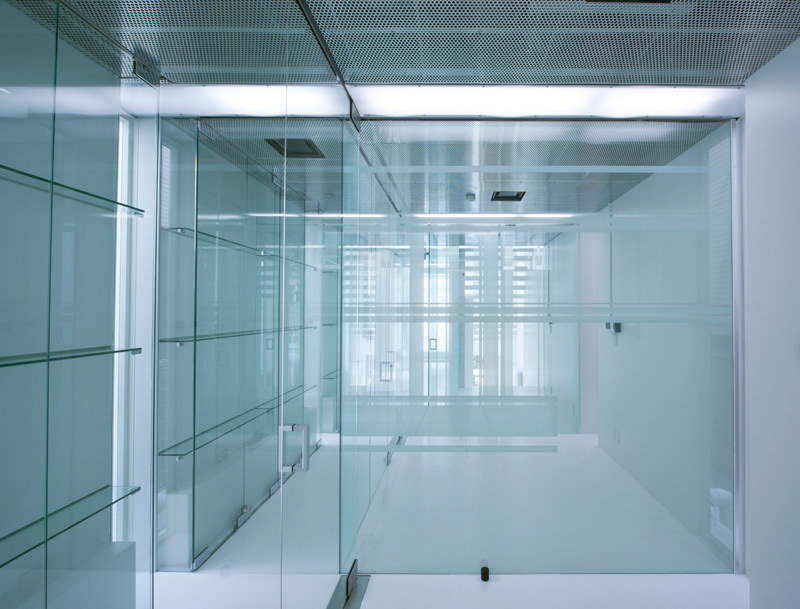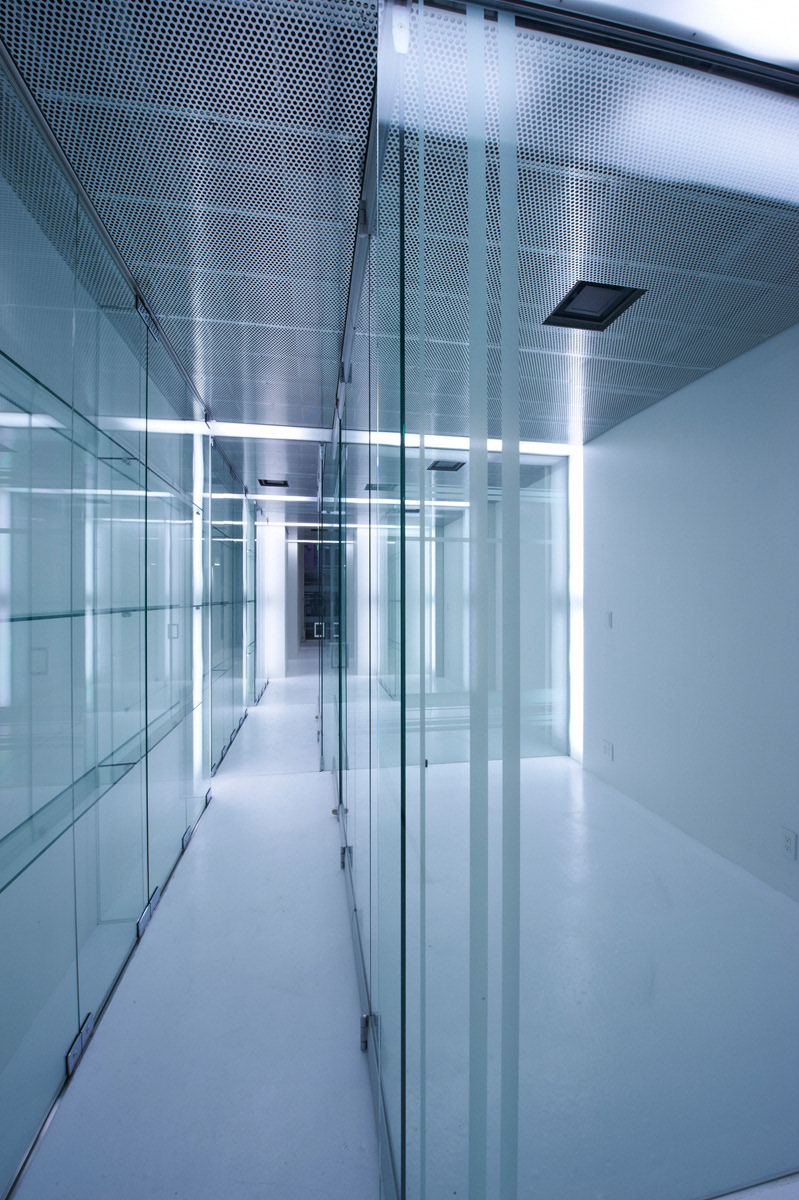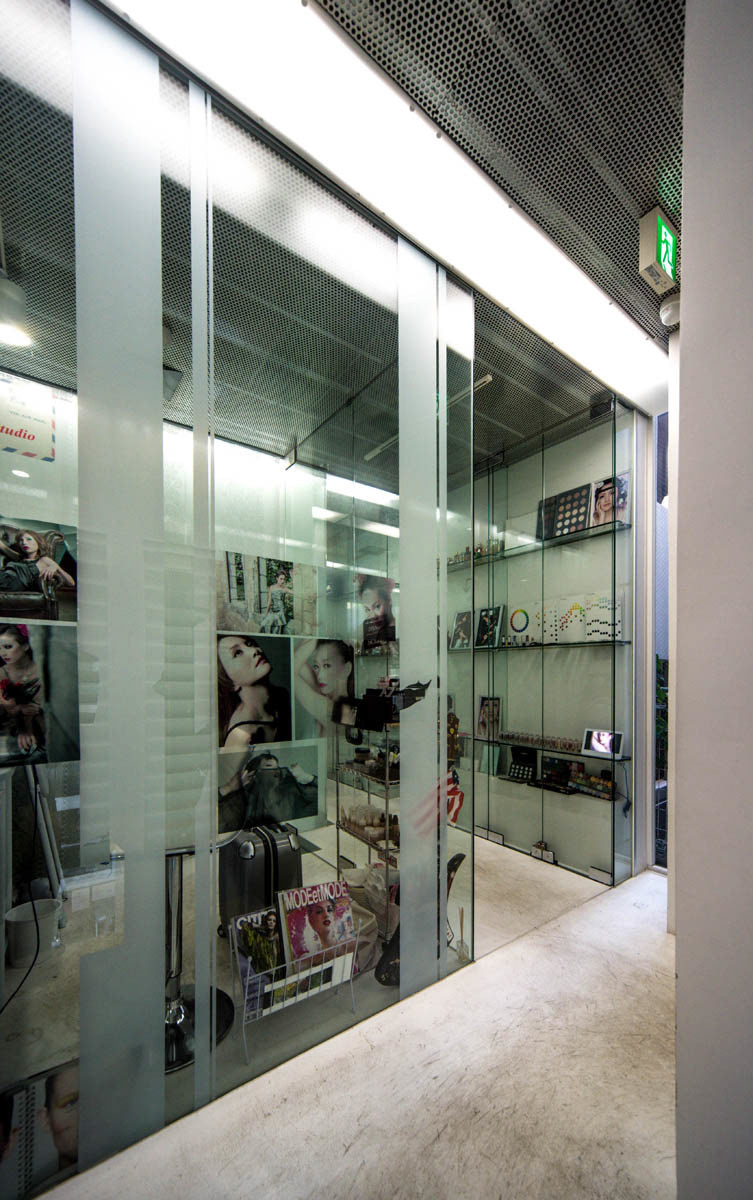 The BASE Minami-Aoyama is a three-storied tenant complex which faces with the road on both north and south side of its site. From the facade on its north side to south side, the ground level goes up by 4 meters: the design incorporated that factor to let the building act as the fl ow line to connect both roads on its sides.
Its gate-shaped frames line up in slightly shifted way like a series of modern art sculptures. Within these frames, printed glass screens overlap each other, creating unique scenes that changes as you walk in. The slits between gate-shaped frames filter sunlight just like trees and make interior space naturally rich in light and warm atmosphere.
These slits run from glass wall to top-light, keeping each gate-shaped frame independent through the top-light.
Each gate-shaped frame creates one unit of space composition. First and second fl oor have 18 shop space varied in its size from 4 to 10 square meters.
Fashion related tenants, such as apparel boutique, jewelry shop, accessory shop, nail salon, design atelier are expected. On the third fl oor is a common area and meeting room, in addition to the largest tenant space for cafe or restaurant with terrace and roof balcony area where can be also used for tables.
南青山の地に4~10㎡程度の18タイプのユニットから構成されるファッション系と、カフェなどを想定したスペースによる小規模商業コンプレックス。 筒状の構造体がズレながら並び「隙間」を設けた門型フレームは、スパン方向は薄肉ラーメン、直行方向は地面から片持ち壁柱とする構造です。「隙間」から光が木漏れ日のように内部に入り込み、レイヤー状のラインプリントとガラスの重なりあいにより、不思議な奥行き感と内外の関係をつくりだしている。各ユニットはショーケースとの間に廊下を挟む境界をガラス折戸として、開放して大きいエリアとしての利用も可能で、あたかも街のストリートマーケットのように変化を楽しめる空間となっている。
Produce:KOMURA AGENCY コムラエージェンシー
Collaboration:KAZUYA NISHIMURA 西村和哉 
Structure:RHYTHM DESIGN
METAL WORKS:SHINKO STAINLESS KEMMA 新光ステンレス研磨
Contractor:SHIN 辰
LOCATION:MINAMI AOYAMA 東京都港区南青山3-4-2
SITE:164.60㎡
BUILDING AREA:262.71㎡
AIA JAPAN DESIGN AWARDS 2011
2A ASIA ARCHITECTURE AWARDS 2015, FINALIST
アメリカ建築家協会ジャパンデザイン賞2011大賞
2Aアジア建築賞2015 FINALIST入選
PHOTO: RYOTA ATARASHI, RYUICHI SASAKI FOR SASAKI ARCHITECTURE
COPYRIGHT 2017 SASAKI ARCHITECTURE ALL RIGHTS RESERVED..