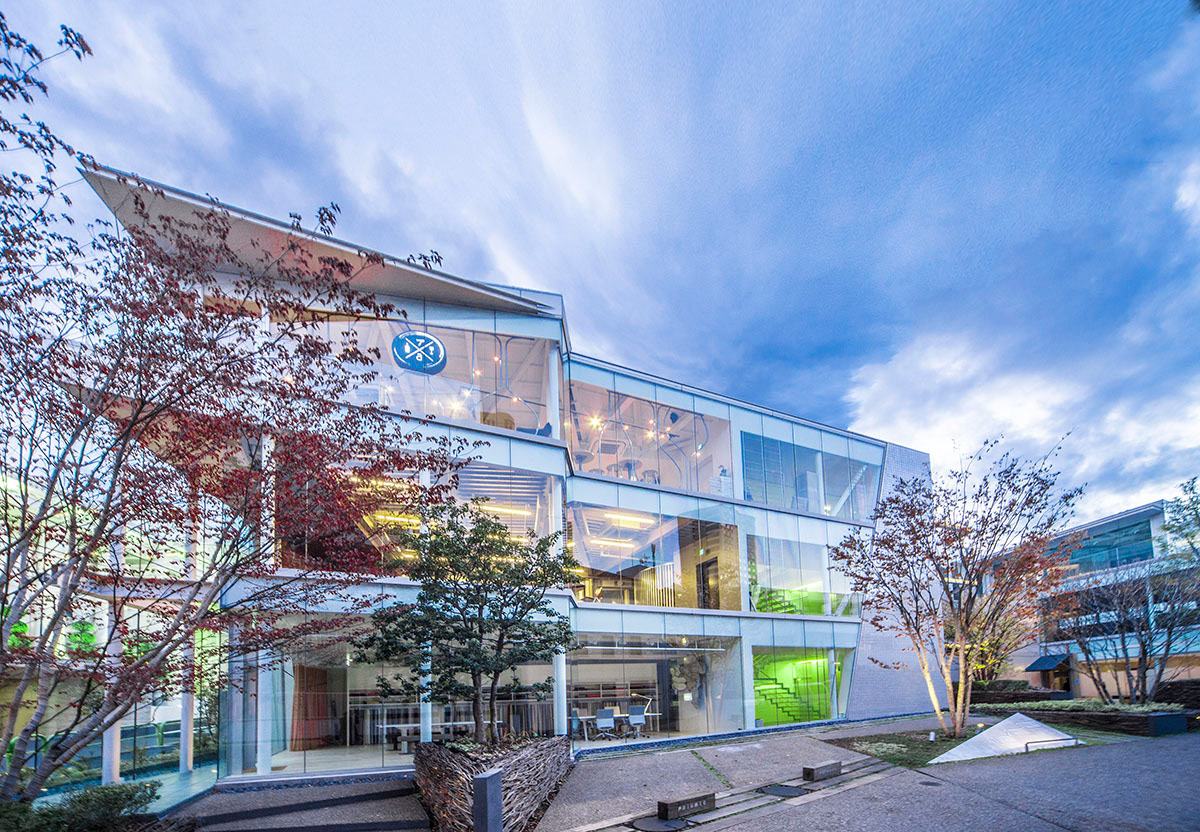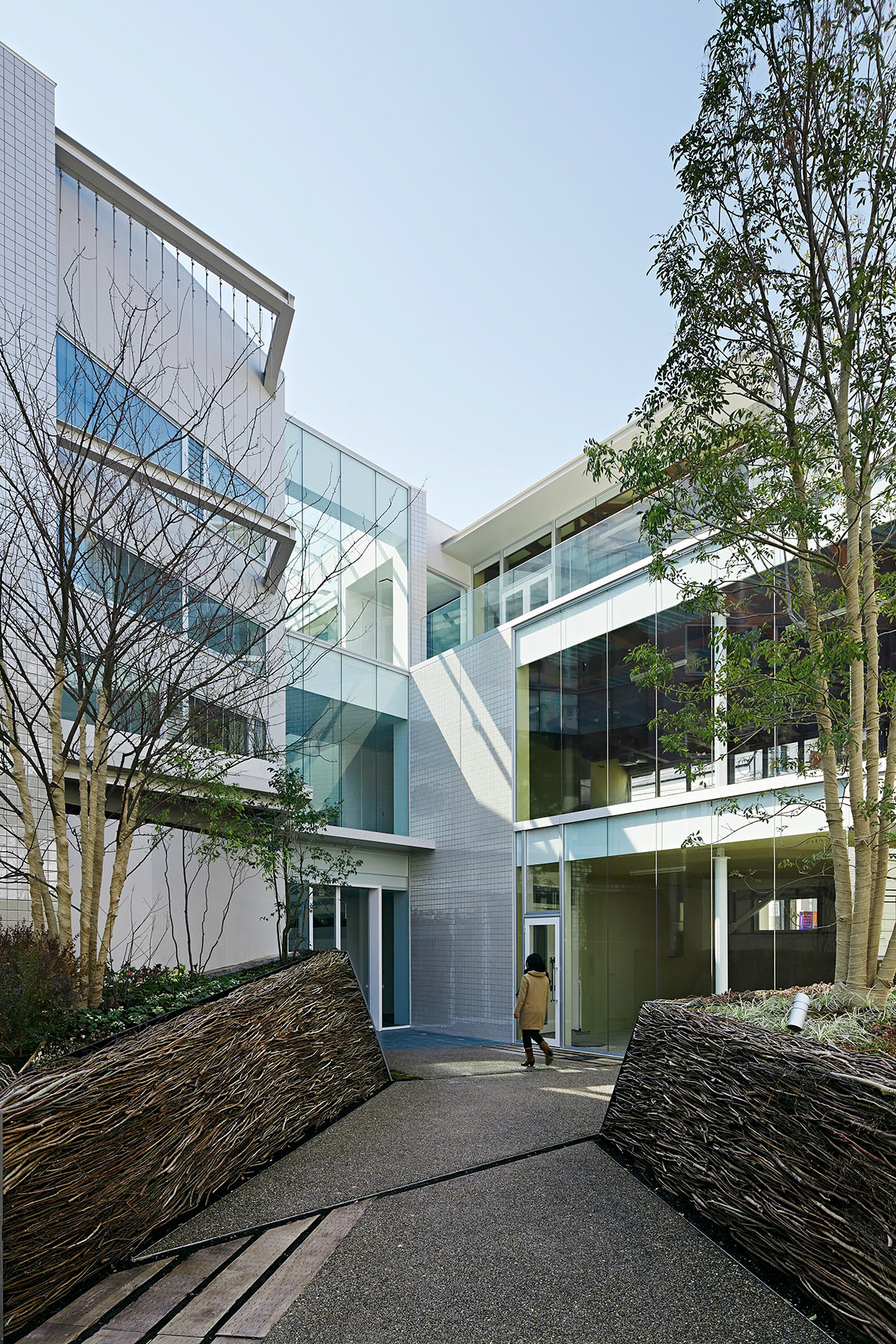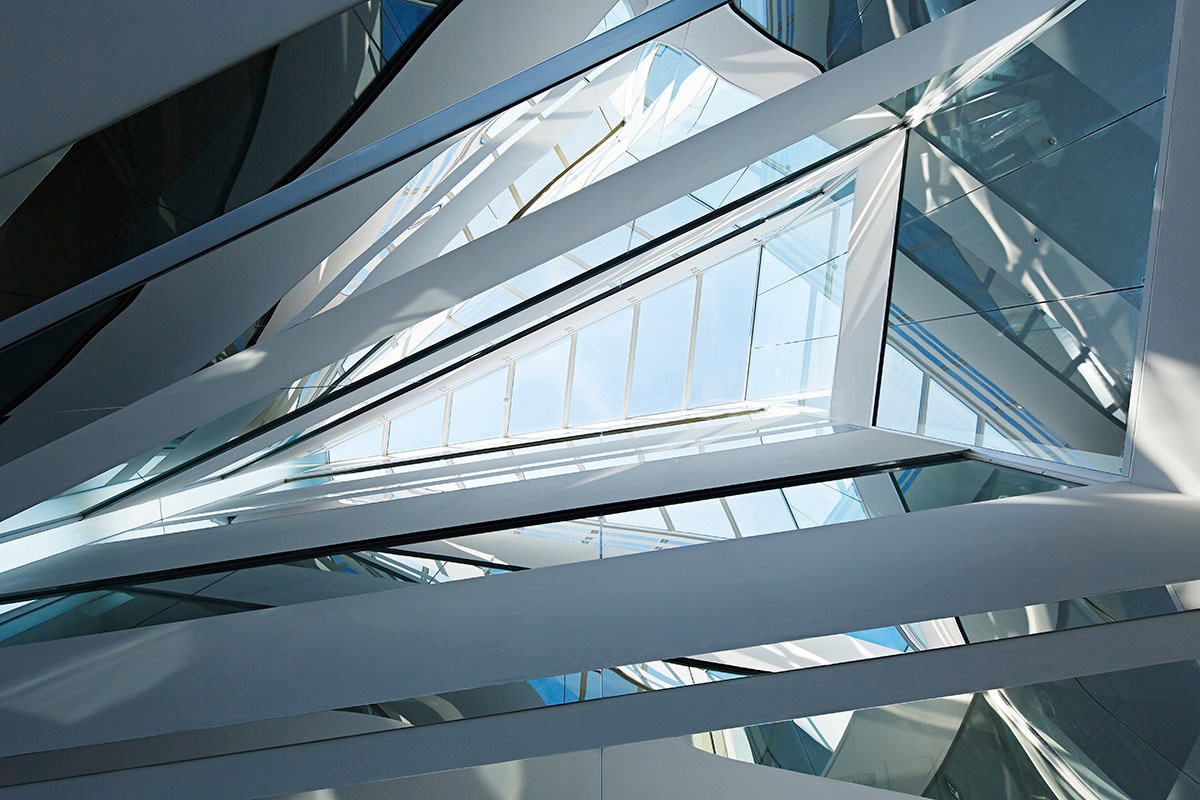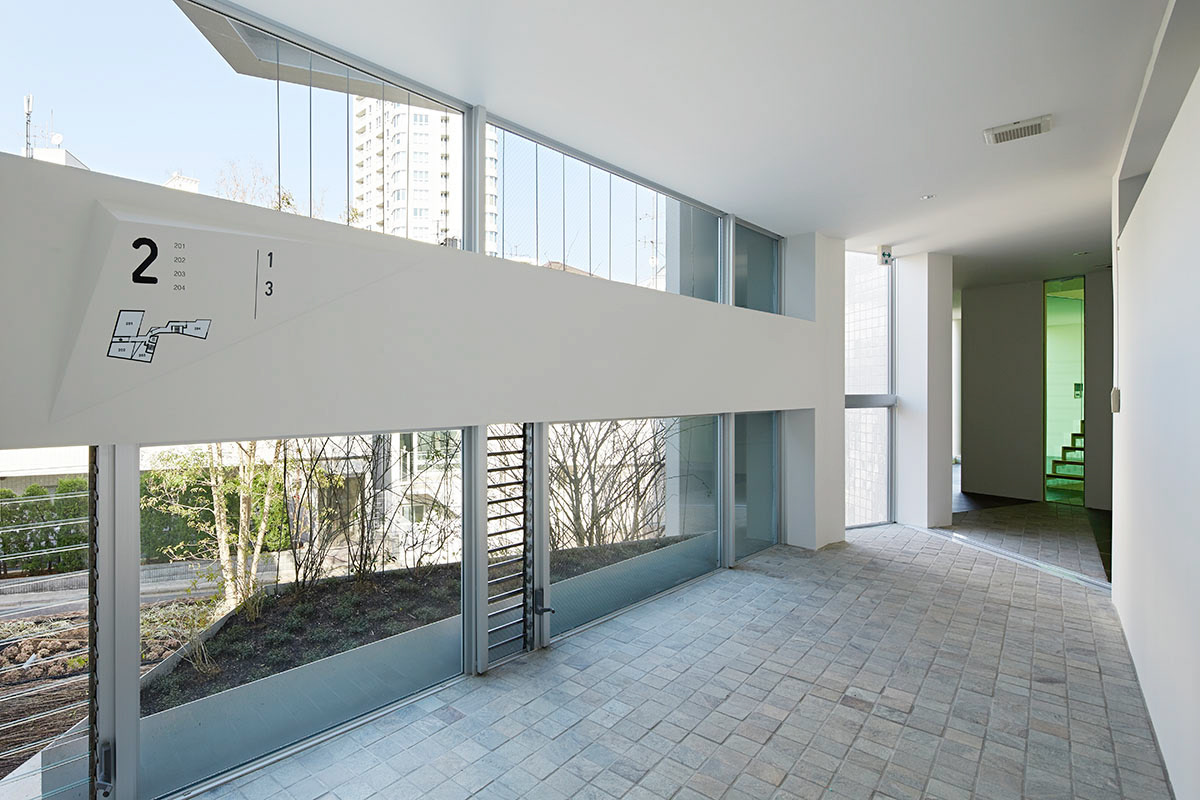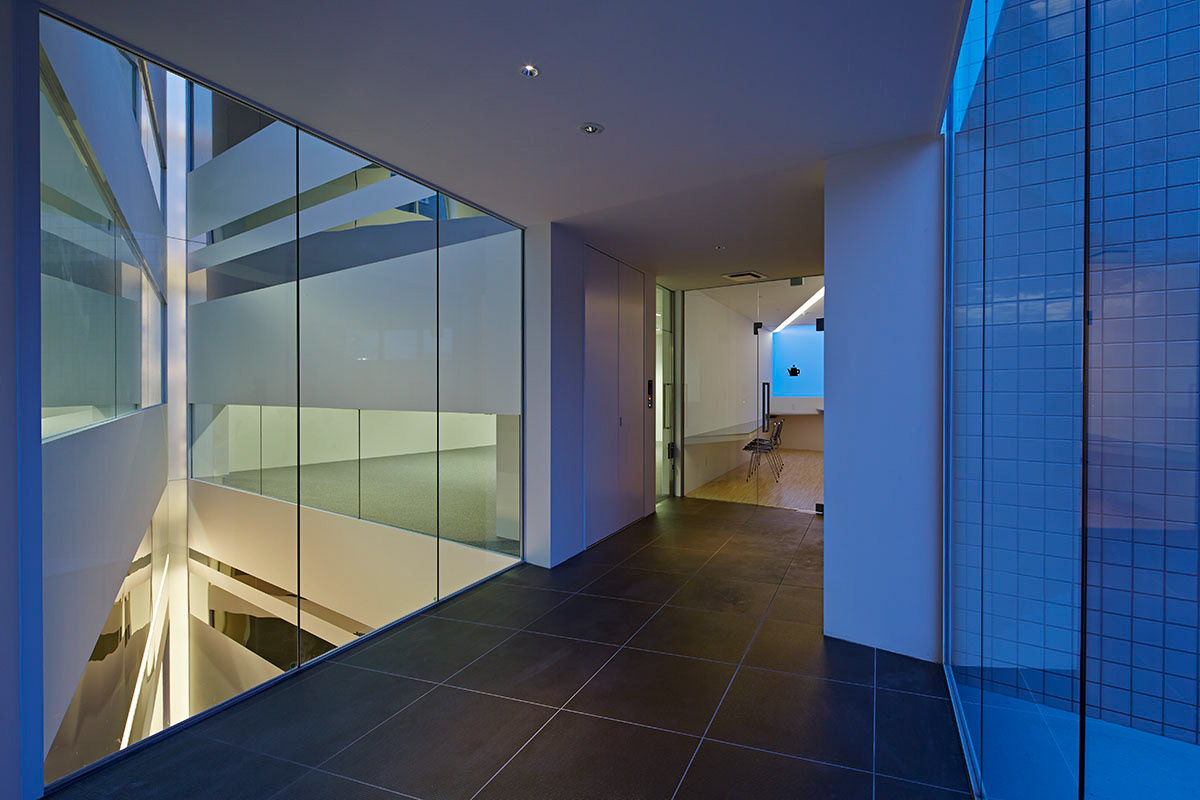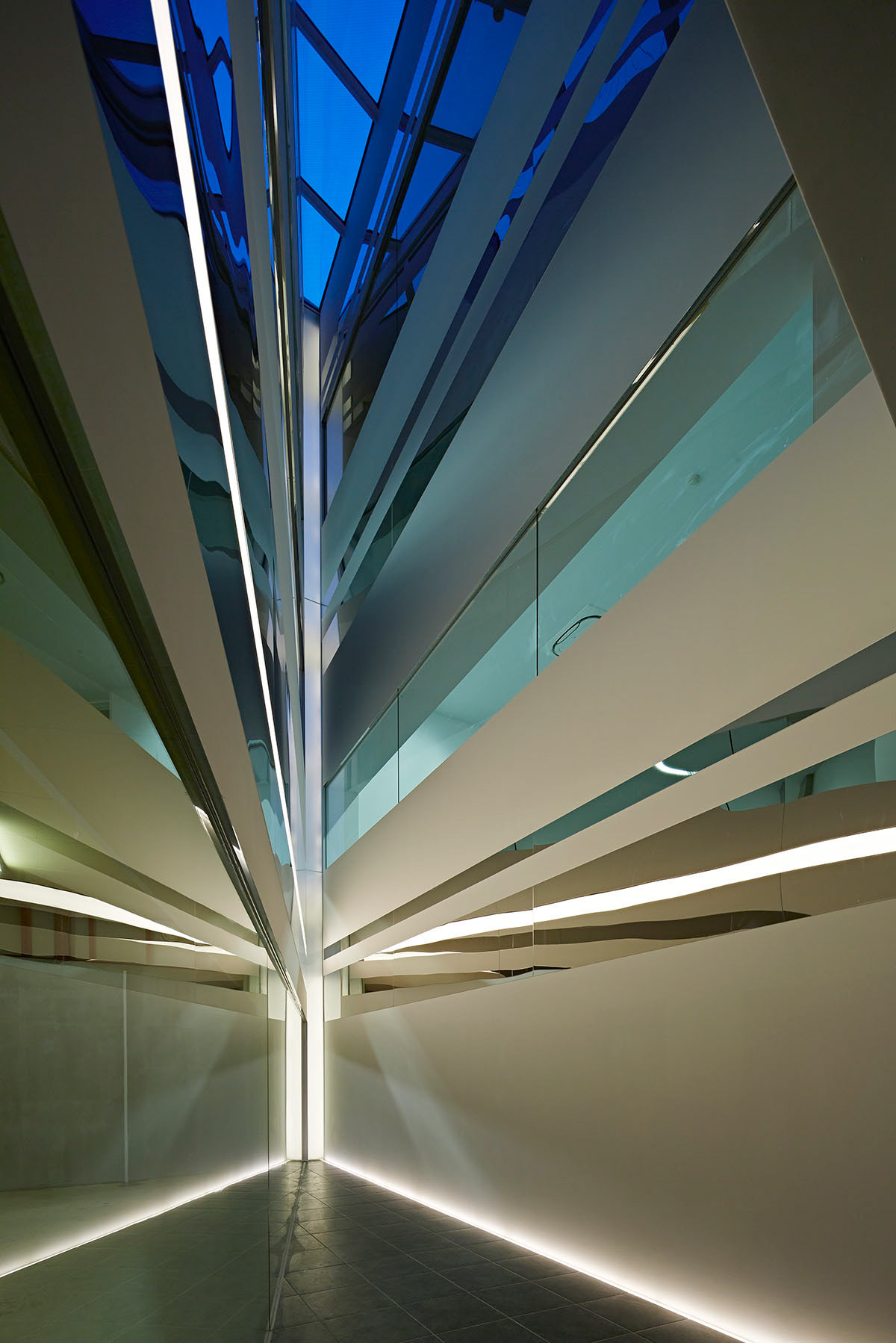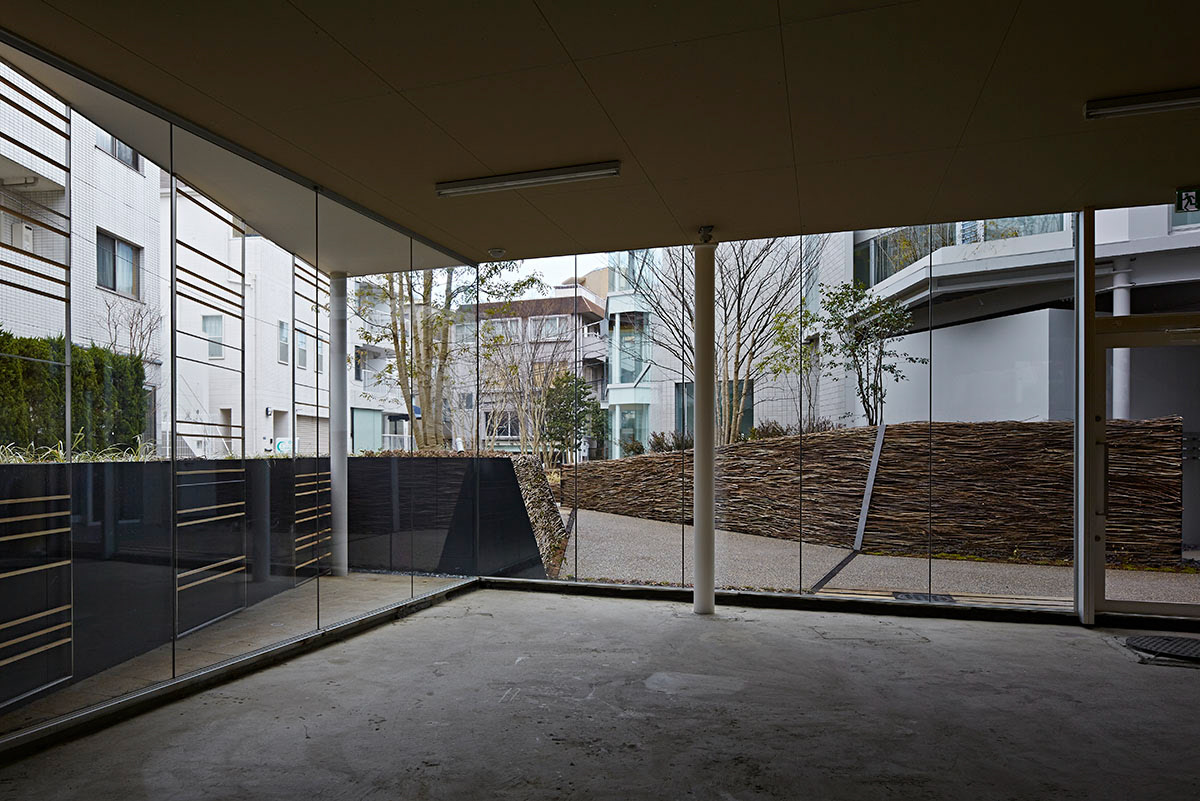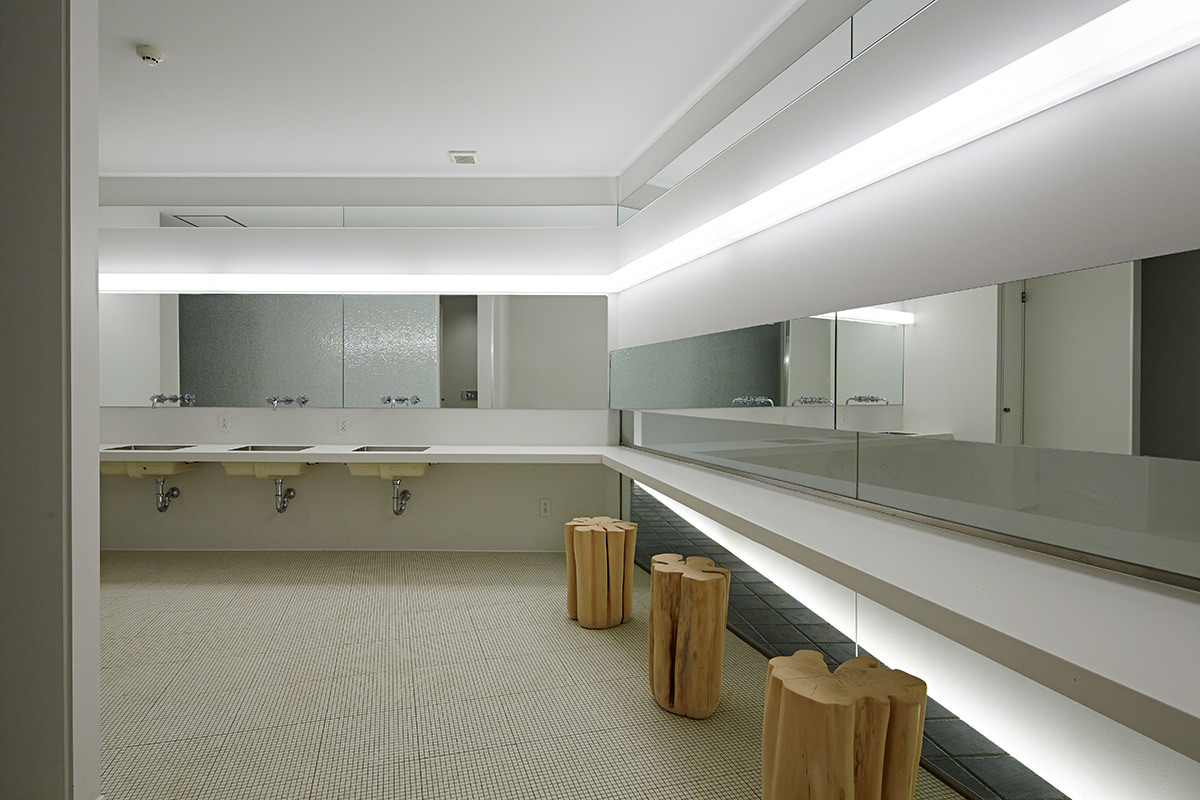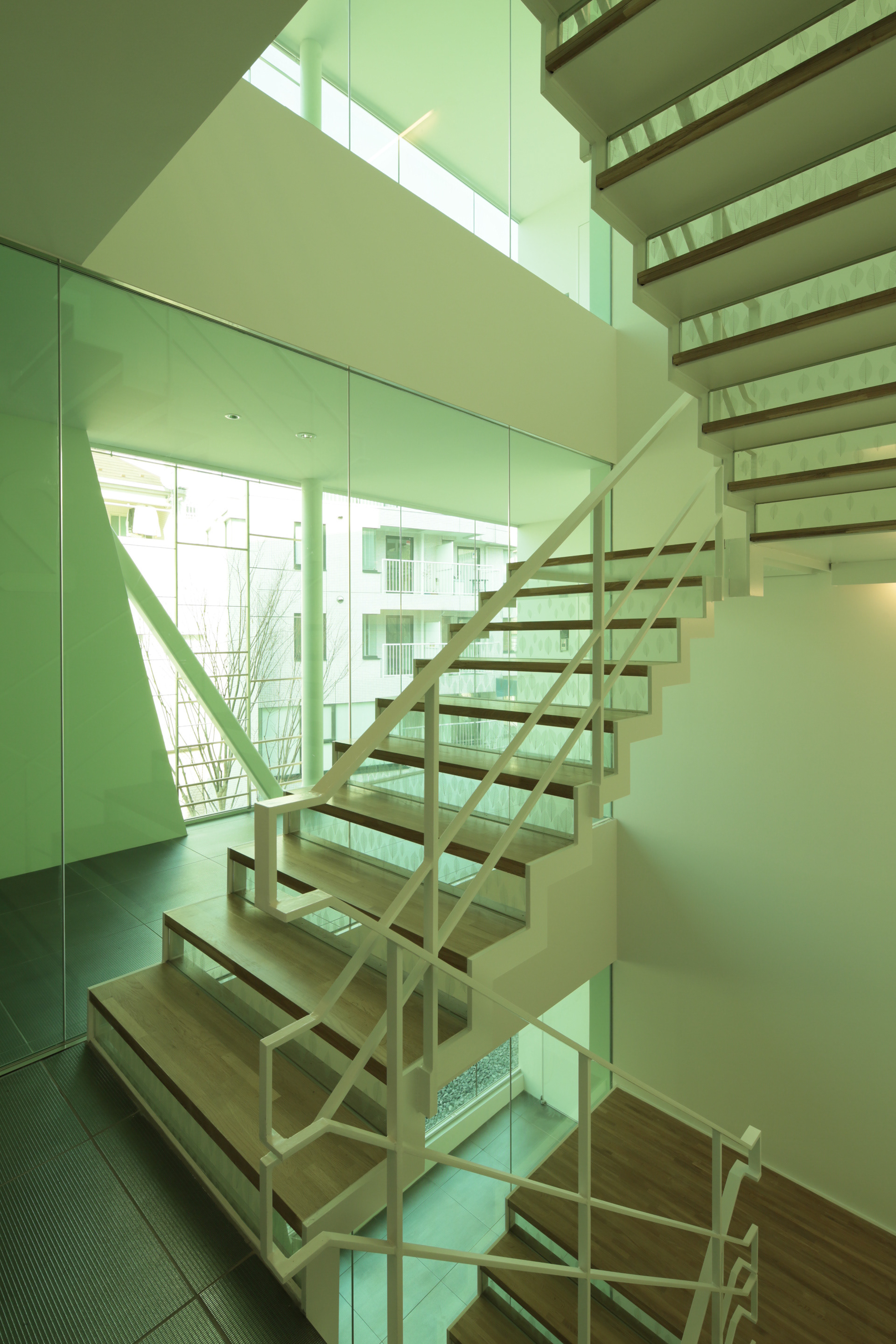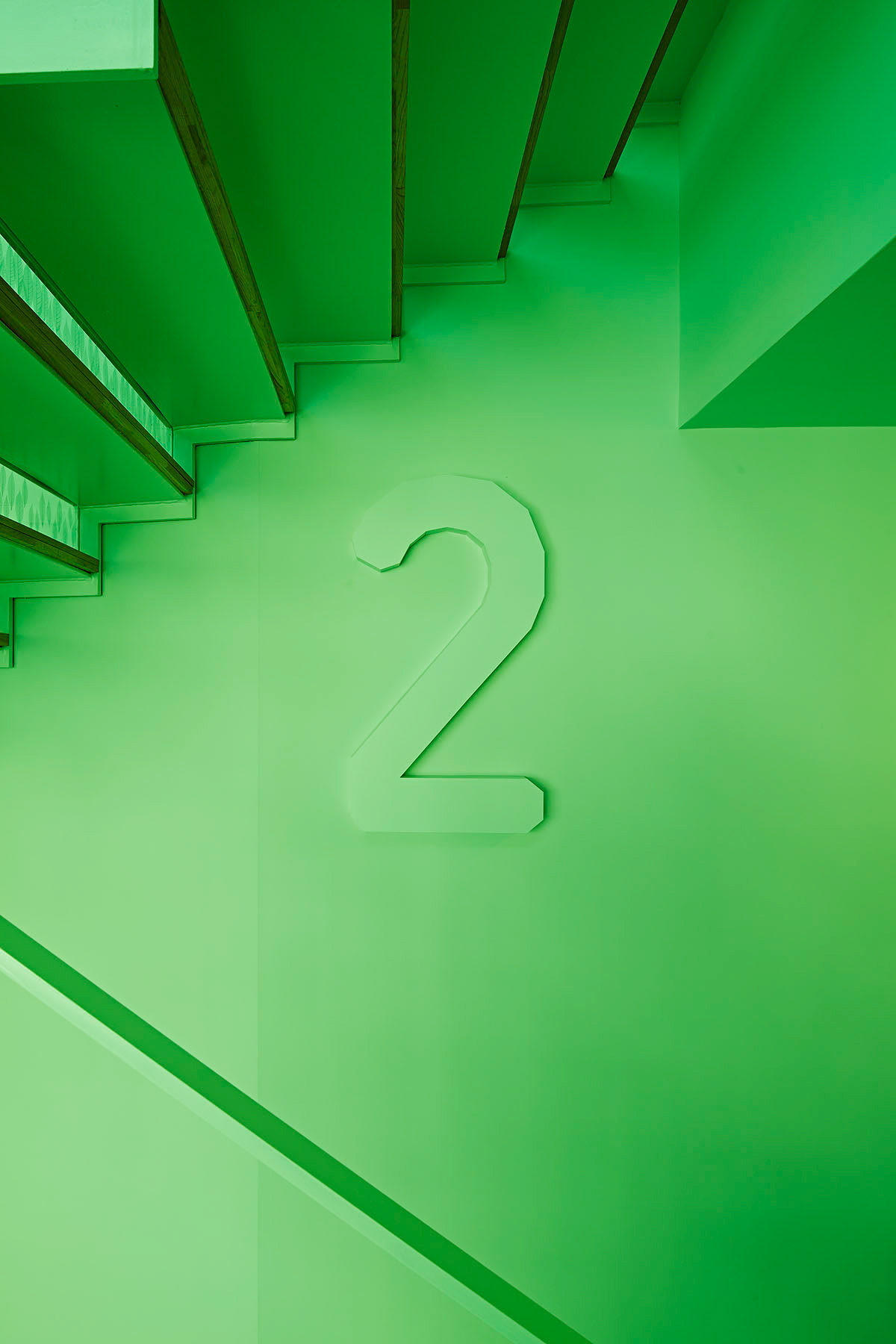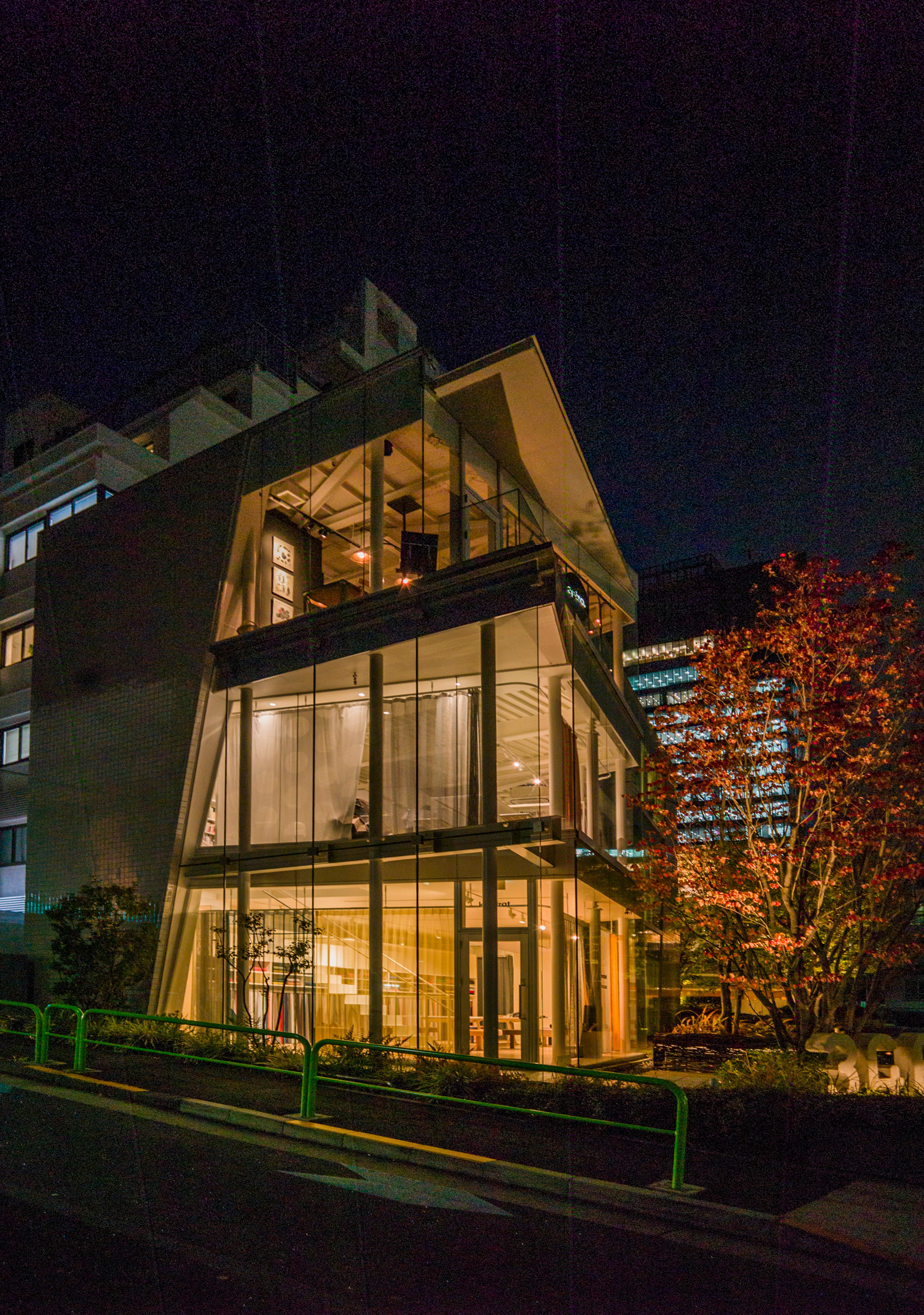 PHOTO:KOICHI TORIMURA, RYOTA ATARASHI, RYUICHI SASAKI FOR SASAKI ARCHITECTURE
A three-story office and retail complex in the Minami Aoyama area of Tokyo, Aoyama 346 is an interplay of multiple green triangles, which articulate the liminal spaces that intermediate between the interior and the exterior of the building. The design is also a response to the client's request to create "an urban oasis" in the very heart of the city.The project sits on a hilly, "flagpole" 750-square meter site that is cornered by streets to the west, east, and north—the last one of which is a private driveway that is integrated into the overall design. The design primarily exploits these site conditions by referencing the geometry of triangles that variegate in their materiality, hue, and density as they progress from the exterior into the interior. A triangular, two-story void features potted plants that hang from above, folding in greenery into the building and offering visual connection with the adjacent main street through its glass curtain wall. Retail and restaurant spaces are punctured by semi-open triangular balconies around the building's corners. A triangular bridge connects the two zones of the complex, from which exposed beams intersect on the exterior to juxtapose the building with the landscape elements. In particular, the linear arrangement of mirror stainless steel, LED light, flexible board, and glass in the entrance hall atrium showcases an infinite interplay of angular forms, where sunlight pours through the top light and the vertical slit and bounces off among the striated, reflective materials. These elements, together with the surrounding landscape, are projected onto the lustrous tiles on the façade and the glass curtain walls, as well as the mirror stainless steel that lines the interior hallway, further reinforcing the idea of interpenetration.
店舗とオフィスの共存する複合施設。この都心の地に植物や木漏れ陽が建築に入り込む姿を模索。大きな高低差があり、特徴のある形状の敷地から、「内」に差し込むような「トライアングル」の形が点在する。緑と建築が、その質感、階調、密度のグラデーションを変化させつつ施設の内と外に浸透することにより、内と外の空間が逆転していく様を表現し、豊かな「間」の空間を建築の中に創造することを意図している。
JCD DESIGN AWARD 2014 BEST 100
2AASIAARCHITECTUREAWARDS 2015, FINALIST
THE INTERNATIONAL DESIGN AWARDS 2015, HONORABLE MENTION
JCDデザインアワード2014 BEST100
2Aアジア建築賞2015 ファイナリスト入選
インターナショナル・デザイン・アワード 2015 入選佳作
LANDSCAPE:PLAT design
GRAPHIC::Nambu Design  南部デザイン+ Yoshinari Takahashi 高橋慶成
Lighting 照明:sola associates
Structure 構造: OZ.An + Rhythm Design
Mechanical 設備:Hezeraf
Contractor: SHIN 辰
PM: N ASSET TOKYO エヌ・アセット東京
CLIENT:KIKUMOTO
PHOTO : KOICHI TORIMURA 鳥村鋼一、RYUICHI SASAKI 佐々木龍一
LOCATION:3-4-6 MINAMI AOYAMA, MINATO-KU,TOKYO 東京都港区南青山3-4-6
BUILDING AREA: 1132㎡


COPYRIGHT 2017 SASAKI ARCHITECTURE ALL RIGHTS RESERVED..